Creative Ideas for Halloween Party Food
Share Options
Bambino Mio
27 / 10 / 2023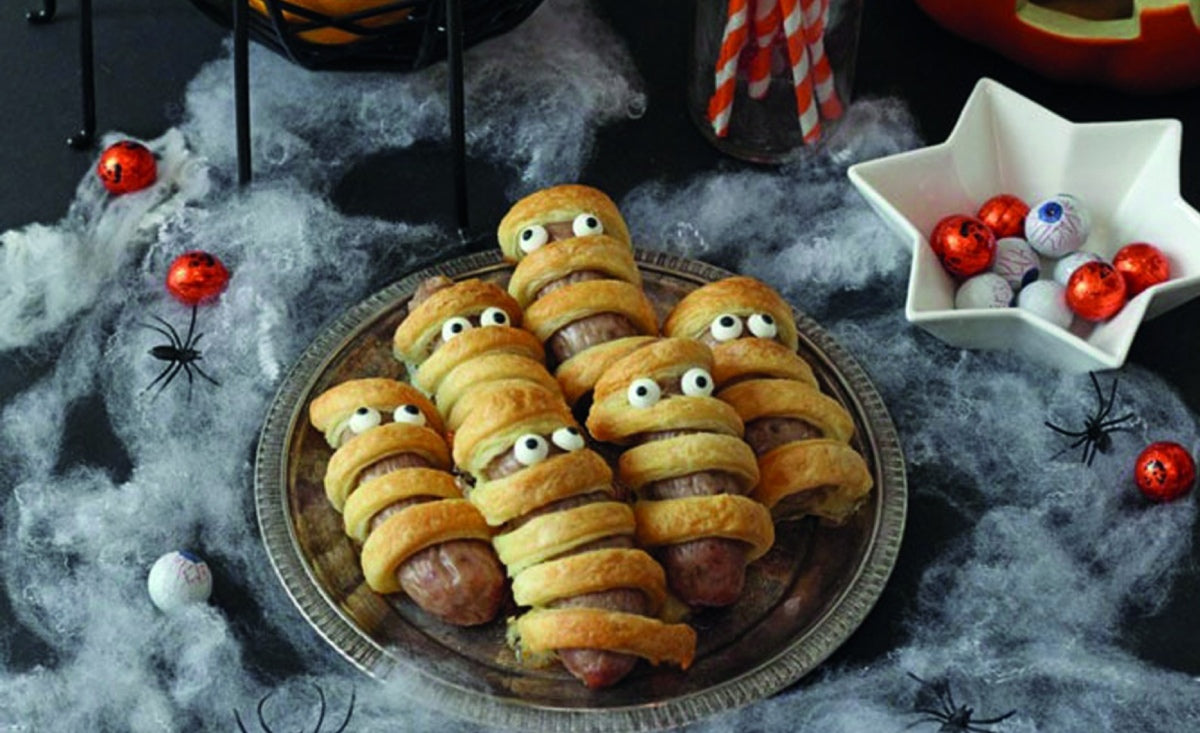 Inside this Article:
Creative with a hint of horror, obviously…
These Halloween party treats guarantee a spooky spread that's fun, nutritious (1) and thrilling at the same time. Even better, they're all really easy to prepare so your kids can even lend a hand.
Mummified sausages
No, these aren't the sausages which rolled onto the floor and disappeared behind the fridge many months ago…
While hot dog sausages work best for this fear (sorry, fare), you can use regular sausages, vegan or meat, but the thinner the better.
Inspired by @myfussyeater (see main image above), just cut some plain, ready-roll pastry into 1cm-wide strips and wrap your sausages in them, leaving some of the sausage visible, brush with egg then bake for 25-30 minutes at 180C. You can add dots of cream cheese and tiny pieces of black olive to make peeping eyes for an extra touch.
Pumpkin jellyheads
As fun to make as they are to eat, these jellyheads are always a hit, as well as offering a good hit of vitamin C (2)!
The first thing you need to do is to cut off the tops of the oranges, leaving enough room for you to gently dig in a spoon and scoop out the insides without damaging the peel.
Once you've got all the pulp out, squeeze it to extract the orange juice and set it aside, before making up your jelly according to the manufacturer's instructions and adding the juice. 
While you're waiting for the jelly to set, carve scary pumpkin-style faces into the orange peel with a sharp knife and put these shells in the fridge next to your jelly. 
Once the jelly is set, scramble it all up into a blobby mess and spoon it into the orange shells. If it spills out of the eyes and mouth, don't worry as that's the gross effect you should be 
aiming for!
Hocus Pocus Pie EYE-dea
Grab your ready-roll pastry and get ready to roll. This spooky pie idea is inspired by the Hocus Pocus series, in particular the Sanderson Sisters' spellbook. 


Just get together your favourite pie filling in a rectangular pie dish and cover it all up with a sheet of ready-roll puff pastry. Brush some beaten egg or milk over your pastry bookcover, add a boiled egg as the eye and bake everything in the oven for a gloriously gruesome dinner.
Jack o' Lantern cheese toasts
Another easy-but-appealing Halloween treat is zombie mouths, complete with marshmallow teeth.
Apples with mottled red and green skin will give you that living dead look. All you have to do is to cut the apples into 0.5cm slivers, smear one side of each sliver with peanut butter or cream cheese (this actually works) and place a row of small marshmallows between them. 
Gingerbread skeletons
Just make up your gingerbread people as you normally would or buy some ready-made ones, then pipe on a skeleton with white writing icing. You don't need to be anatomically correct for this, although some people like to add a bright red heart for extra effect.
Dracula's punch
Trick or treating is thirsty work, so your little horrors will need a refreshing drink once they get home. Any dark red juice will do nicely - a mixture of cranberry and dark grape juice works well and you can top this cocktail with some vampire fang sweets.
Mozzarella and olive eyeballs
A treat for the grownups, mainly, but after all these party preparations, you deserve something! 
Turn a bag or two of mini mozzarella balls into all-seeing eyes with the help of some black and green olives. Just cut the olives into crosswise slices or halves and press them into the soft cheese eyeballs. 
You're never too old for Halloween fun and you could even have some grown-up Dracula's punch once the kids are tucked up in bed…
Citations and References
(1) National Health Service (NHS). 'Weaning and Feeding. What to Feed Young Children.' 2023. Web. www.nhs.uk/conditions/baby/weaning-and-feeding/what-to-feed-young-children
(2) Medical News Today. 'Vitamin C: Why is it Important?' 2023. Web.
www.medicalnewstoday.com/articles/219352
---