Eco-friendly Halloween Costumes for Babies and Toddlers
Share Options
Bambino Mio
27 / 10 / 2023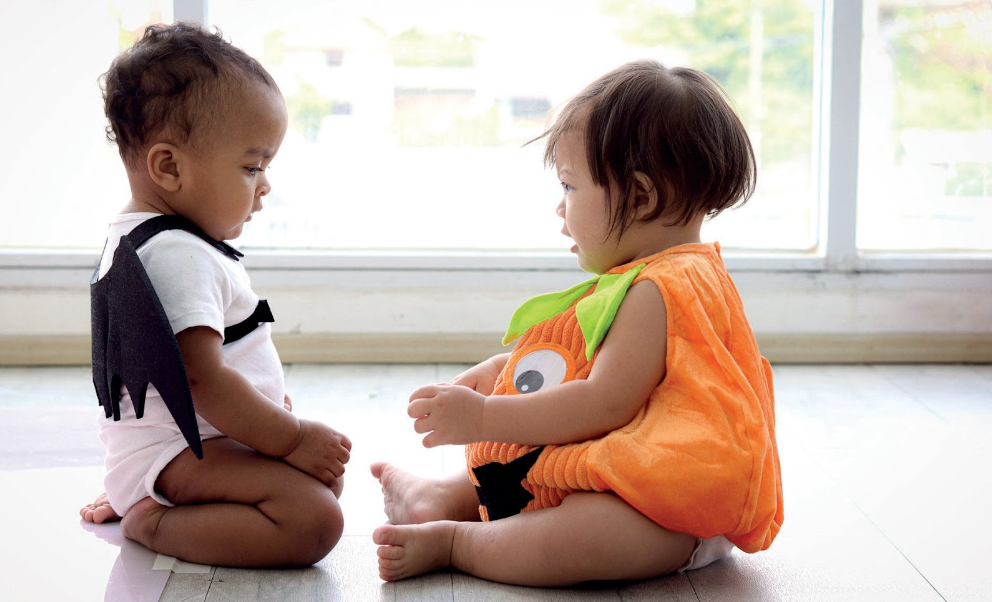 In the UK, Halloween is becoming a bigger and bigger event with every passing year, with spooky seasonal spending rising from £230 million in 2013 to £687 million in 2022 (1). 
UK parents spend lots of money on Halloween fancy dress 
A lot of this spending is on Halloween clothing, such as costumes and trick-or-treat bags for children. Around one third of the money UK parents spend on Halloween celebrations is on costumes (2), with food not too far behind.
This fearsome finery is great fun but often the fun stops at the stroke of midnight and these costumes are consigned to the bin and then landfill (3) after just one outing.  Of course, passing them down to younger children or donating them to a charity shop helps to prolong the life of these costumes, which is far less scary!
How to have a sustainably scary Halloween
If you're already trying to reduce the amount of single-use plastics, then aiming for a more sustainable Halloween will certainly help you to polish your halo (or should that be your horns?). 
Here's five ways to dress up your baby or toddler for Halloween without scaring the entire planet.
Repurpose old clothes rather than buying Halloween costumes
The easiest way to do this is to dig out some old, preferably white, bedsheets and cut a couple of holes in them for an instant ghost. This will work really well for younger children and toddlers as they won't be clamouring for shop-bought costumes just yet. It's a Halloween classic that never fails.
For older children you can still use old clothes, but you might have to get a bit more creative. Splash red fabric paint or fake blood onto old t-shirts, trousers and dresses and find a zombie makeup tutorial online to add some extra horror. 
You can also use white paint on some old black clothes to create a skeleton or X-ray costume. 
Hit up the local charity shops
Lots of people donate gently-used Halloween fancy dress costumes to charity shops and you'll probably start seeing them in early October. Pumpkin onesies for babies are a firm favourite, with older children often opting to dress as a witch, vampire or cat. 
Once fright night is over, you can give the costumes a wash and take them back to the charity shop so they can have another outing next year!
Rent a Halloween costume
Renting a Halloween costume for your child is a very green route as the hire company will clean the costume professionally and store it safely so it's good to go for a few more years of terror.
Recycle some toilet roll and cardboard
Another Halloween classic is the toilet roll mummy costume. Just check the weather forecast to make sure your little horror won't dissolve and if it does look a bit damp, go to Plan B and rip up an old bed sheet instead.
Cardboard costumes can be as simple as a scary robot and as complex as a dinosaur or dragon. Older toddlers and preschoolers in particular love this type of costume as they can help to make and paint it themselves. 
Use face paints instead of plastic masks
If you can find some eco-friendly face paints, then that's even better. Most Halloween masks are made from plastic and are almost always discarded on the way home or shortly after, adding up to a terrifying amount of waste (4). 


Citations and References
(1) Statista. 'Retail Expenditure on Halloween Products in the United Kingdom (UK) from 2013 to 2021, With a Forecast Until 2023.' 2022. Web. www.statista.com/statistics/330279/halloween-products-expenditure-in-the-united-kingdom-uk-forecast
(2) Statista. 'Spending on Halloween in the United Kingdom (UK) from 2014 to 2017, by Product Category.' 2020. Web. www.statista.com/statistics/331689/forecast-halloween-spending-breakdown-united-kingdom-uk/
(3) United Nations Environment Programme (UNEP). 'The Environmental Costs of Fast Fashion.' 2022. Web. www.unep.org/news-and-stories/story/environmental-costs-fast-fashion
(4) The Guardian. 'Scariest Thing About Halloween is Plastic Waste, Say Charities.' 2019. Web. www.theguardian.com/lifeandstyle/2019/oct/18/scariest-thing-about-halloween-is-plastic-waste-say-charities
---