Reusable Diaper Wash Guide
Share Options
Bambino Mio

Product

03 / 06 / 2023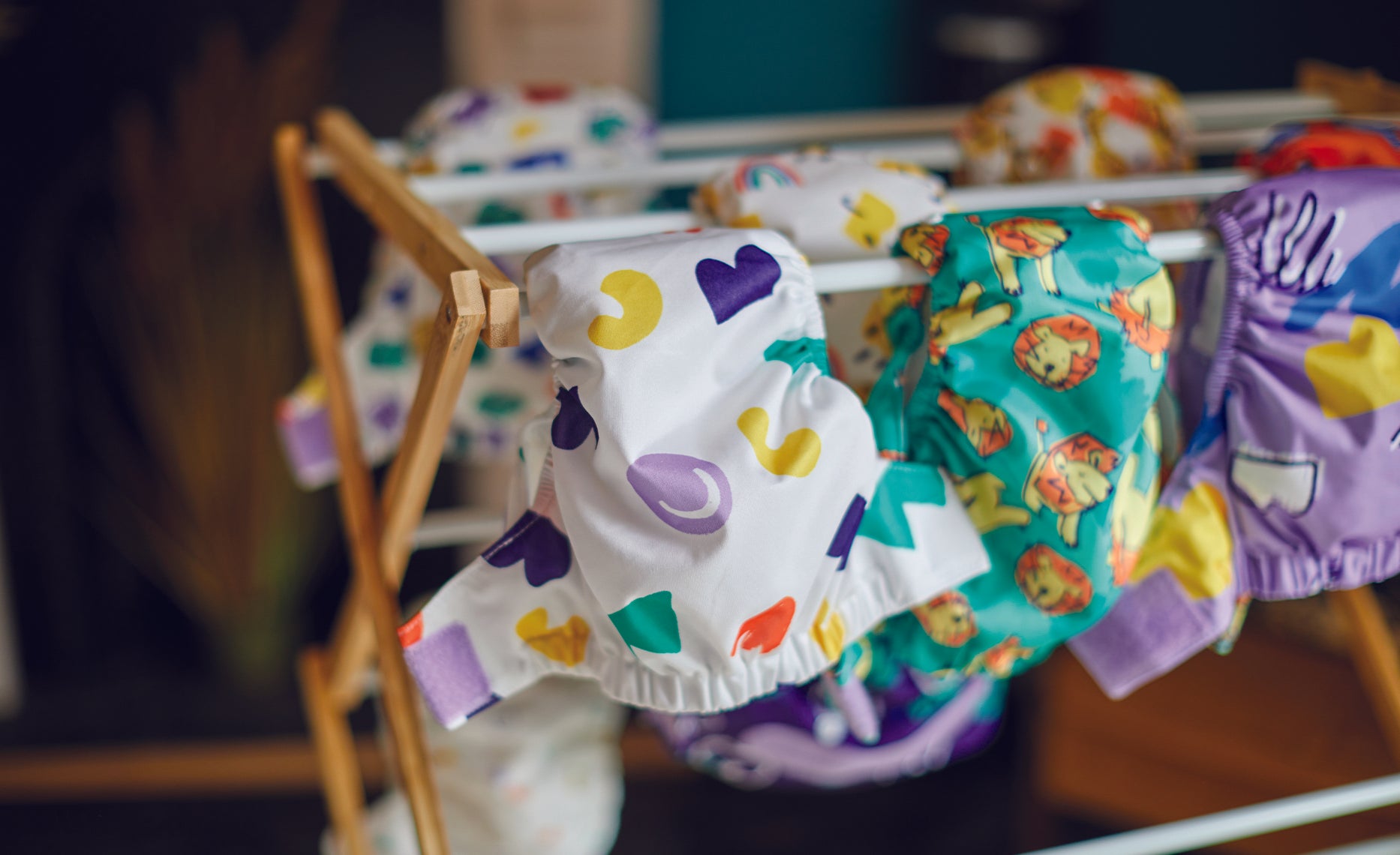 The first wash
We recommend that you wash your diapers before they are used. This will remove any loose fibres and increases the absorbency ready for use. Run a normal wash, use a non-bio detergent, and avoid using any fabric softener.
Our wash guide video explains everything you need to know about how to wash your diapers.
Removing the poop (it's really not a big deal)
When it comes to changing your baby's nappy, just open the nappy and remove any poo, tipping it into the toilet. Liners are really handy for this job and take the fuss out of this messy step. Our Messless liners can be thrown away after use whereas our Revolutionary Reusable liners can be set aside for the wash. If any poo gets onto the surface of the nappy, you may prefer to rinse it through to stop any staining.
What do I need to do before the wash?
Our Revolutionary Reusable diapers have adjustable front tabs which can be folded back on themselves and secured. This will stop the loop side from damaging any fabrics in the wash.
When you take a used diaper off your baby, we recommend you remove any boosters from the diaper pocket before you store them. If you have any boosters still inside the diapers, remove them before you fill your machine.
How should I store my diapers before wash day?
In between washes, store your diapers for three days at most in your Stay at home wet bag. This can be positioned anywhere that is within reach of your change table. The wet bag can be sealed shut using a fold, roll and clip method however we recommend leaving the bag open if possible which will allow air to circulate and reduce odours.
Do I need to pre-wash my diaper before washing?
No. Pre-washing is not required if you follow our washing instructions carefully. Reducing the amount of time you use your machine is a great way to lower your carbon footprint and our diapers are designed for a simple and easy clean. However, if you do decide you need to run a pre-wash, select a short, cold wash cycle and half a scoop of detergent, and then store your diapers damp until you have enough diapers for a full wash.
How do I wash my reusable diapers?
When washing day arrives, carry your Stay at home wet bag to the machine and empty the contents into the washing machine drum. For an economical and planet-friendly wash, it's best to always do full loads however you need to make sure you don't overload your washing machine. Filling your machine to around ¾ full will ensure your diapers can wriggle around in the wash and get extra clean.
Can I wash other items with my diapers?
Absolutely! And this is a great way to ensure you are using your machine and energy as efficiently as possible.
What temperature can I wash my diapers at?
We recommend washing your diapers at 104°F with enzyme free laundry detergent. Follow your machine manufacturer's guide to find out the required dose for your machine. Do not use fabric softener when washing, as this can affect the absorbency of your diapers.
How can I make sure that my diapers are extra clean and hygenic?
We recommend adding 3 tablespoons of our Bright & mighty diaper cleanser to your washing detergent drawer too. This will add a boost to your laundry and help tackle tough stains and odours.
How do I dry my reusable diapers?
We recommend air drying your diapers either inside or outside whenever possible and away from direct heat. If necessary, our diapers can be tumble-dried on a low/cold setting.
Can I iron my diapers?
No, please don't iron your diapers, as this can affect their performance.
How do I do a strip wash?
Simply soak your diapers in a hand hot solution of Bright & mighty diaper cleanser for at least 2 hours. Use 3 tablespoons of cleanser for every 4 litres of water. After soaking, wash your diapers in the washing machine as you normally would. We would recommend giving your diapers an additional rinse after your cycle to be sure all the cleanser has been removed.