Cart
You're €75,00 away from free shipping
You have got free shipping
Recommended Products
Messless diaper liners
CLEANER NAPPIES - Leave things a whole lot cleaner at change time with these handy plant-based, poo-catching nappy liners.
EXCELLENT FIT - With a new and improved size (11.5cm x 29cm) for an excellent fit. 100 disposable liners in each pack.
PROTECT DELICATE SKIN - Draws moisture away to protect sensitive skin.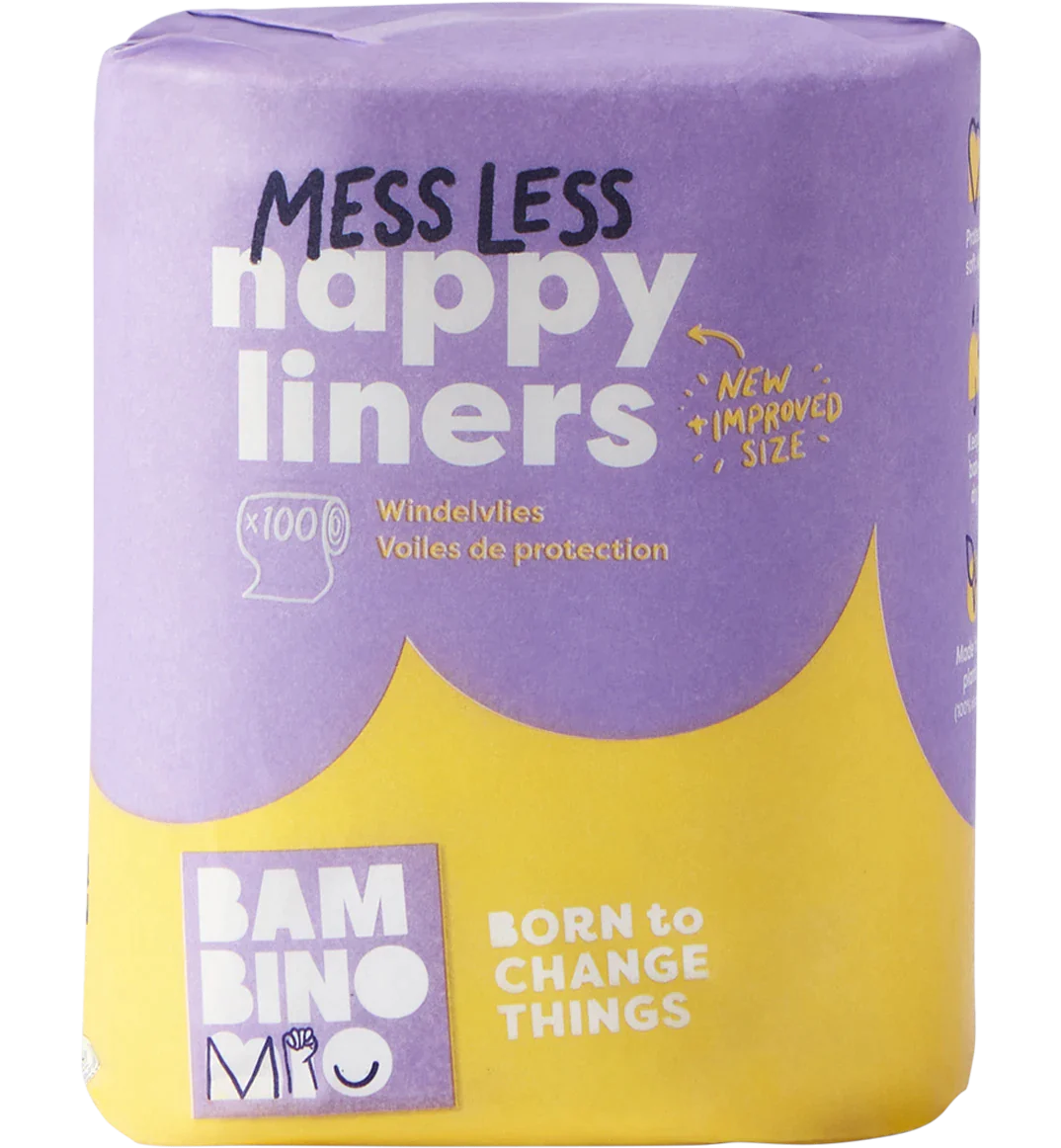 Catch poops and reduce soiling of reusable diapers.

Draws moisture away to protect sensitive skin.

Made from 100% renewable plant-based material.

Vegan-friendly. Never tested on animals.

New improved size (11.5cm x 29cm) for an excellent fit.
Our revolution is in motion but momentous change takes time. We've moved entirely to packaging made from 100% recyclable paper and plastic however, while we phase out the old, the packaging you receive may vary.
UNLIKE THE OLD ONES, THESE ARE USELESS
I used to love Bambino Mio liners. However, with their rebranding, liners changed for worse. Size has literally been reduced to half. This might work for newborns, but it's as good as having no liner once your baby starts moving. Quality is terrible as well. Now my baby ends up with liners that leave some sort of lint stuck to her skin. I beg you, please go back to the good old ones. I had to ditch the last batch that I ordered and I am looking for a different brand now while I still have a few of the previous ones.
Never realized…
how much I would need and come to love these! When I was researching cloth diapering, it was not something I had really paid attention to. I got my first 100 liners as part of a Bambino Mio diapering starter kit. Anytime my baby has a rash and needs triple paste on his bum, these are perfect barrier between baby cream and the diaper (so it doesn't stick to the diaper—it will not wash off easily). They fit in all of my diapers (not just the Bambinos) by just folding the extra down. They are also super soft! I would recommend this inexpensive extra to anyone who is going to use cloth diapers!
Must have
These liners completely protect the diaper from becoming stained from solids, and a roll lasts quite a while! They make laundering diapers much easier following a poo
Nappy liners
Very soft and large, so they can be folded in half and have a double layer protection.
So soft and quite large, perfect for any occasion
Poop-catching helpers

Our handy plant-based, poop-catching diaper liners make change time fuss-free.

MORE INFO

Poop-catching helpers

LESS INFO

Happy bums

To combat leaks, it's always good to regularly check how your nappies are fitting.

MORE INFO

Happy bums

LESS INFO

On-the-go

Getting out and about with reusables is simple. Follow our helpful tips and you'll be good to go!

MORE INFO

On-the-go

LESS INFO