Cart
You're €75,00 away from free shipping
You have got free shipping
Recommended Products
the
Give-it-a-go

bundle
The ideal solution for anyone wanting to give reusable diapers a go. This bundle contains 5 Revolutionary reusable diapers and some messless liners.
REVOLUTIONARY NAPPIES - Free from harmful materials and complete with messless liners and absorbent boosters.
NEXT-GENERATION DESIGN - The most innovative and best-performing nappy yet and works from birth to potty!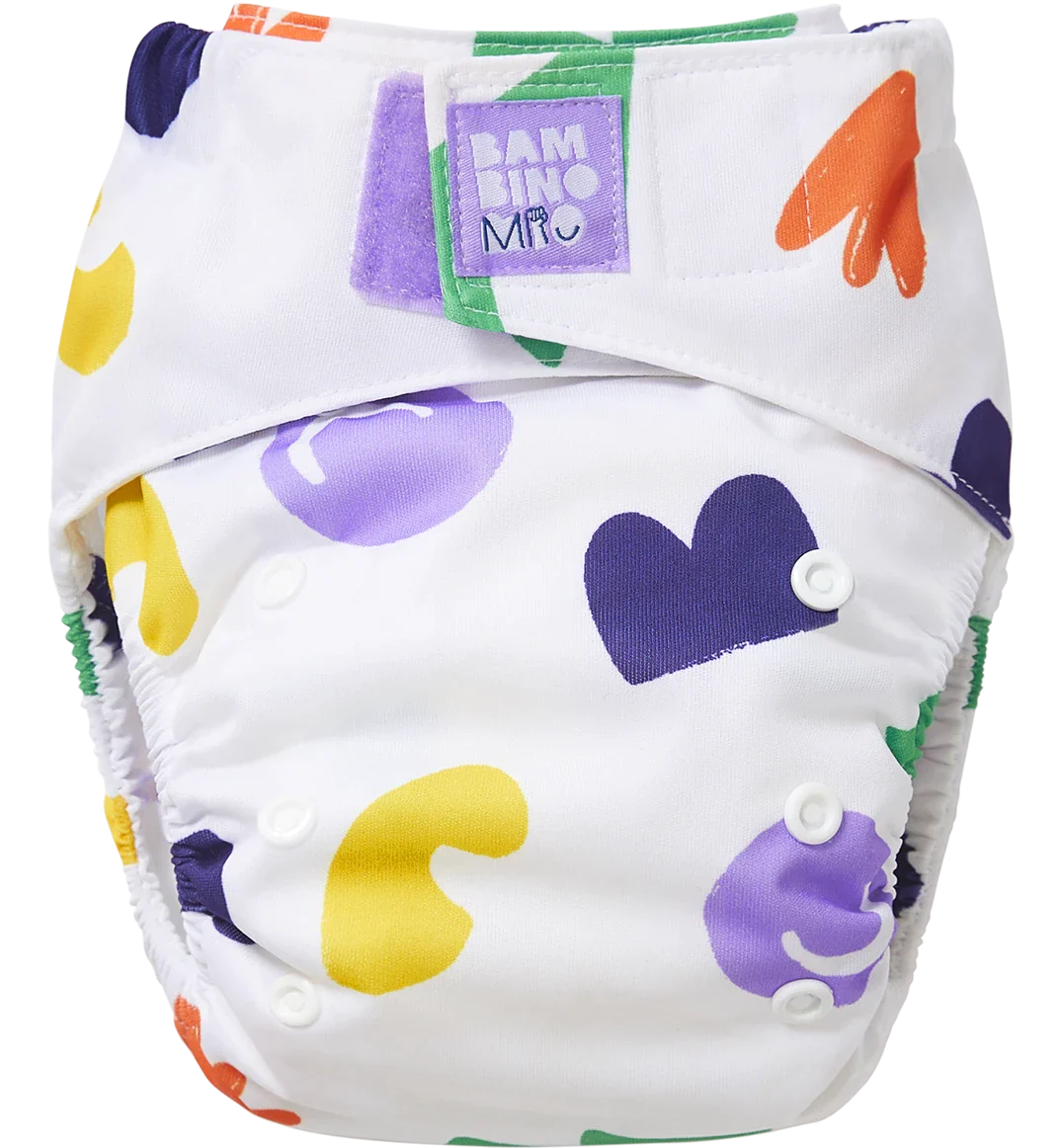 Next-gen design

The only true birth to potty diaper and the most innovative diaper yet!

Smart

Water-resistant, wriggle-tested and supports faster potty training.

Safe and soft

No toxic chemicals or nasty materials. We only do kind and gentle. Our diapers are OEKO-TEX® Standard 100 certified which means they are safe to use on little bottoms.

Secure

Clever little details such as double elasticated legs, a shaped waist, and an inner pocket to stop pee and poo escapes. Impressive!

Simple

No nonsense diapers that are easy to fit, remove and wash. These little actions have impact. Give yourself a pat on the back!
Put it on

Follow a few simple steps and you'll be fitting diapers like a pro before you know it!

MORE INFO

Put it on

First, adjust the poppers to get the right fit for your baby. Doing this before you change your wriggly baby will make things a lot easier. If you're using liners (either Messless or Revolutionary Reusable), place one in the centre of the diaper. Next, lay your baby down on the open diaper and pull the front up, securing in place by using the adjustable tabs. Check that the boosters and fabric are all tucked inside and that the elastic edge sits in the leg line. For a comfortable fit you should be able to slide two fingers easily into the waistband at the front.

Check out the fit guide.

LESS INFO

Wash & dry

Our next-gen diapers are easy to wash and quick to dry. Follow these simple steps to keep your diapers in relovable condition!

MORE INFO

Wash & dry

Store your diapers for up to 3 days at most and when wash day arrives, empty the contents of your Stay at home wet bag into the washing machine drum. For an economical and planet-friendly wash, it's best to always do full loads but make sure you don't overload your washing machine. Filling your machine to around ¾ full will ensure your diapers can wriggle around in the wash and get extra clean. We recommend washing your diapers at 104°F with non-biological laundry detergent. There's no need to use fabric softener when washing, as this can affect the absorbency of your diapers. Add 3 tablespoons of Bright & mighty diaper cleanser to add a boost to your laundry and help tackle tough stains and odours. And finally, air dry your diapers either inside or outside whenever possible and away from direct heat. If necessary, our diapers can be tumble-dried on a low/cold setting.

Check out the wash guide.

LESS INFO

On-the-go

Getting out and about with reusables is simple. Follow our helpful tips and you'll be good to go!

MORE INFO

On-the-go

When you head out for the day, pack your diaper bag with everything you need for your trip including enough diapers to get you through the day. When it comes to change-time, simply store your used diapers in your Out & about wet bag to keep them separate. When you get home you can transfer them into your Stay at home wet bag or pop them straight into the washing machine. Simple!

LESS INFO
Poonami-proof
I actually love these! I'd actually replace most of my stash with these. Poonami-proof.
Great fit
Best fitting nappy we have.
Contained a very large poo
Was very impressed when they contained a very large poo without leaking, a lot of nappies (especially disposable) wouldn't have contained it.
Secured an epic poonami!
Not a single bit of an epic poonami escaped this nappy.
Really like these
I really like these and would certainly recommend to others. Washed very well and dried quickly on the line or inside on an airer. Double gusset on legs is great and has caught contained everything perfectly with no leaks.